Downtown Building Boom? You Ain't Seen Nothing Yet
Combined Would Create a Building Nearly 500 Stories Tall
By Rob Patterson | JULY 24, 2013
See the new Downtown Austin skyline that sprouted over the last decade or so? Take a good look at it, maybe snap a pic for posterity. Because over the next few years it's going to change even further.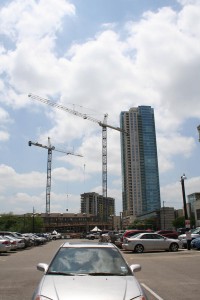 Expect to see many more cranes Downtown; Surface parking lots will disappear.
Credit: 
Photo by Rob Patterson
Construction projects now breaking ground, starting to rise, topping out, currently on the books or planned to be built will further transform not just the skyline but the streetscape and the nature and culture of Downtown. And more is likely to follow.
"It may be the biggest building boom yet," says Michael Knox, the City of Austin's downtown manager in its economic growth and redevelopment services office. "We've seen booms before but this seems big if not bigger."
"It definitely seems that way," observes Will Schnier of the civil engineering firm Big Red Dog, who keeps a close watch on redevelopment projects. "My perception is that we're under-built. With the amount of people and businesses that are moving to Austin, we don't have the capacity to handle that right now. The problem could have addressed the need between 2008 and 2012, but nobody in the capital markets was loaning out any money. So now we're catching up to everything in terms of demand."
Big Things on Tap for Downtown's Southeast Sector
The new Fairmont Hotel will be Austin's second highest tower… at least for a while.
Credit: 
Courtesy of Fairmont Hotels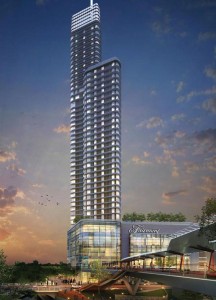 Ground zero for the latest coming gathering of tower cranes is at Red River and Cesar Chavez Sts. and along neighboring Rainey St. On the northeast corner of the intersection will rise the 50-story Fairmont Austin hotel, which when finished in 2015 will be the city's second tallest building at 580 feet high (after the 680 foot Austonian at Second St. and Congress Ave). It will add some 1,000 new rooms to the city's tight hotel stock, which will help the Convention Center across the street attract the larger meetings it has missed out on due to the shortage in accommodations. The tower is slated to break ground in November.
A block or so away at the end of Red River, the long-planned Hotel Van Zandt project starts construction this summer on a 16-story, 327-room structure next to The Shore condo tower. It was scaled down from the original plan for a 29-story hotel and residential tower.
Just announced for development on the southwest corner of Cesar Chavez and Red River is three-tower mixed-use project called Waller Center with an estimated $500 million construction budget. Plans call for a 64-story hotel/condo highrise (which would become Austin's tallest structure), a 35- to 45-level apartment tower and a 17- to 20-story office building, all planned to break ground in mid-to-late 2014.
At the southeast corner of Rainey and Driskill St. a 327-unit apartment building with a ground floor restaurant will soon be underway, displacing Lustre Pearl – the "Rainey Street Bar That Started It All" as its website says – which will reportedly be moved though where to is not yet known. (Previously announced for that site was a much bigger development of two mixed-use towers, both over 40 stories tall, plus a later office highrise.) A 182-unit residential tower with a ground floor restaurant and retail space is planned at 70 Rainey, and the 21-storySkyhouse Austin apartments is nearing completion at Water St. and Rainey. Also planned for some time now is the 144-unit North Shore Lofts condo project at the end of Rainey on the banks of Lady Bird Lake next to the Holiday Inn.
All this activity begs the question of how it will affect the bustling Rainey St. nightlife district of bars and eateries that sprouted in old single family homes in the not-too-long-ago moribund residential neighborhood. Can they coexist with the towers, or will development spur further new construction along the street?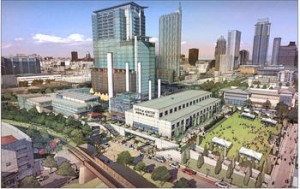 Seaholm to Generate a Whole New Kind of Power
Just as transformational to Downtown is the building activity in the area around the retired Seaholm Power Plant, next to which the new Central Library recently broke ground. A public/private partnership will not just repurpose the historical plant building with office and event space but also erect a 30-story apartment tower plus low-rise structures housing retail, restaurants, office space and a Trader Joe's. The project starts construction this summer.
Seaholm Power Plant will become a multi-use complex.
The city is currently holding a competition for design and reuse proposals for the art deco Seaholm Intakebuilding on the shore of Lady Bird Lake. The mission is to in some way link its new use to the parkland it is on and recreational purposes. The three finalists will be announced on August 9.
Longtime Dallas developers Trammell Crow Co. recently filed plans with the city for a 38-story residential tower that is the first of four projected highrises it intends to build in its redevelopment of 4.4 acre Green Water Treatment Plant site just to the east of Seaholm. Other projected structures are an office tower (28 stories), hotel (16 floors) and another residential building (at least 30 stories), also ultimately adding 82,000 square feet of retail space to the area.
New Buildings to Rise Around Republic Square
Across from the southeast corner of the park at 4th & Guadalupe, where Waterloo Brewing Company once was, Austin's Gables Residential will build a 24-story tower. The lower levels will be the boutique Hotel ZaZa, whose original Dallas location, described by The New York Times as being "like a cross between a villa in Cannes, a West Hollywood hot spot and a zendo," has ginned up a major buzz in the hospitality world. Above it will be 215 luxury apartments.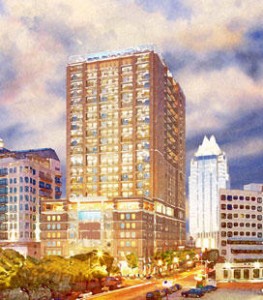 Welcome hot & hip Hotel ZaZa to Austin… unless maybe you live next door.
The project was opposed by the residents of the neighboring Plaza Lofts at 5th and Lavaca, who contend that it will block views and have other negative effects on their quality of life. But it passed muster at the planning commission earlier this year and will start rising next year for a planned 2015 opening.
Travis County intends to build a new courthouse south of the square on the site it bought between 3rd and 4th Sts., currently a parking lot. The building's design has yet to be determined, but in a recent Austin-American Statesman story it was described as "a 500,000-square-foot tower, roughly the size of the Frost Bank Tower." One can't help but wonder if its construction might displace the farmers' market held on 4th and Guadalupe every Saturday.
On the block at the square's north end that the Downtown Post Office recently vacated, aka Block 51, the latest plan for its redevelopment is a 44-story condo tower that could also possibly include ground floor retail, offices and a hotel component. And just to the west on 5th St. the 13-story IBC Bank Plaza office project is now underway.
The new construction in the Seaholm area and around Republic Square puts nearby under-utilized structures like the Austin Music Hall and La Zona Rosa in the redevelopment crosshairs. Those parcels of land could be far more valuable and vital as highrises. "Neither of those sites are encumbered by the Capitol View Corridor, so they are obviously ripe for development at some point," Knox points out. Current Music Hall management recently told the Austin Business Journal they intend to keep improving bookings at the problematic venue. On the other hand, big-development money doesn't just talk but boldly announces: Have I got a deal for you!Further complicating Music Hall matters is the lawsuit just filed over a possible sale of the property that fell through.
A little further west at Rio Grande and 7th St., the long-gestating 7 Rio residential tower on the southeast corner had its plans for a 24-story building approved by the city this spring, scaled back from the originally-planned 34 stories. And Cirrus Logic seeks to expand its footprint around its recently-opened West 6th and West St. headquarters. They plan to add an eight-level parking garage with offices on its ground and top floors to their new building (for which it seeks a zoning variance) and want to build more offices on land they bought just across West. Plus it also purchased another site a block north on West for a third building, though the Old West Austin Neighborhood Association is opposed to the plan.
Congress Ave. Area Keeps Active; Red River Likely Up Next
The 34-story JW Marriott now rises out of the ground at Congress Ave. and E. 2nd St. to become Austin's (and the chain's) largest hotel. And at W. 5th and San Jacinto Sts. a block west of Congress, a 17-floor Westin Hotel begins construction this summer. The two projects respectively add 1,012 and 326 more hotel rooms to Downtown.
A nine-floor office building will rise on Fifth and Colorado on the Southwest corner, displacing the food trailers currently there. Travis County may build a new $60 million office building at E. 11th and San Antonio Sts. on land it purchased late last year by its current courthouse and criminal justice center.
Once the Waller Creek Tunnel goes on line next year, it will eliminate flood plain concerns and likely spur further development along the eastern edge of Downtown north of E. 6th St. Much of that area is covered by the Capitol View Corridor, so most any projects would be low- to mid-rise.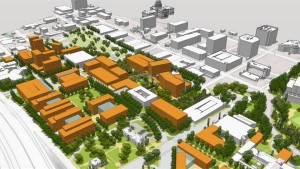 The final UT Med Center plans will create a virtual district.
Credit: 
Courtesy of University of Texas
And with the University of Texas regents approving $334.5 million in bonds for the first phase of its plans for a major medical center further north on Red River just south of campus, it's another sign that new building activity will certainly heat up along that corridor. Seton Healthcare concurrently announced a $250 million private teaching hospital adjacent to the Med Center sector to replace the public-owned Brackenridge Hospital.
And though UT has yet to specifically address the matter in public, the Frank Erwin Center is gone in the final Med Center aerial renderings. So also expect the University to build a brand-spanking-new arena for indoor sports and concerts somewhere nearby in the not-too-distant future.
Red River growth could possibly squeeze out the strip of music clubs on the street between 6th and 9th Sts. And as Downtown buildings shoot up and the city center redevelops and grows even more residential, it's bound to have some kind of effect on the E. 6th St. Entertainment District. Questions also remain about the fate of service centers for the homeless at 7th and Neches Sts. – a sticky wicket indeed as relocating them to somewhere central enough to be accessed by the citizens it serves in most any other neighborhood would face severe NIMBY (not in my backyard) neighborhood opposition.
A (Big) Change Is Gonna Come
All told, there at least 35 significant buildings either approaching completion, underway, soon to break ground, planned or likely to be announced or redeveloped over the next few years in our urban core. And nary a week or two goes by without news of some new or possible building project. Plus all the Downtown activity and the steep area growth curve in general has its impact in spurring further development in areas adjacent to or across the river from Downtown. So central Austin as we know it now will undoubtedly see major changes over the rest of this decade.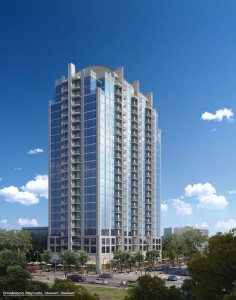 Can roaming barflies & bedrooms in buildings like Skyhouse Austin coexist on Rainey?
Credit: 
Courtesy of Skyhouse Austin
Will the building boom continue (if the economy holds steady)? "The challenge now in downtown is finding building sites," says Knox. "We figure to do a highrise you really need at least a quarter of a block because that's the minimum size to put in a parking garage. Anything smaller and you have to get into assembling parcels or do offsite parking, which is difficult." Even though the city has relaxed parking garage requirements for towers, "that doesn't mean that the market [for onsite parking] has changed."
Some open blocks remain in the center city, ripe for redevlopment. Plus older and lower buildings could get demolished to make way for more highrises when demand and profit incentives remain strong. Billions are being invested, offered up and spent on construction Downtown. That creates a mighty economic engine that can sometimes steamroller over other interests.
The increasingly rapid pace of Downtown development will also continue to pique community concerns about preservation of older buildings and the history of the neighborhood, the area's nightlife scenes, and, at least for some longer-time Austinites, the character of the center city, to name a few matters. After all, as Knox notes, "Downtown is everyone's neighborhood."
On the other hand, the prognosis regarding the city center's latest construction boom looks largely positive in compact city terms. "Anyone that's hating on highrise density in the Downtown core should keep in mind that we are doing exactly what we should be where we should be: going upward and not sprawling out," observes realtor and Downtown Austin Blog publisher Jude Galligan. "And at a growth rate that any other city would be jealous of. Some people lose sight of how in other American cities, one development downtown is something that people get excited about and are thankful for. Here in Austin, we take it for granted. And that's a signal of the strength of our city."